In this issue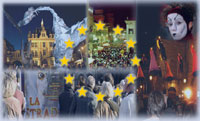 >> 1st-5th June 2011
OPEN FESTIVAL in Namur (BE)

>> 4th June
OPEN STREET FORUM in Namur (BE) «Cultural and Creative Industry»

>> 20th-26th June 2011
OPEN FESTIVAL in Montegranaro (IT)
>> 24th and 25th June
OPEN STREET FORUM in Montegranaro (IT) «The urban Show in the Open City»

>> 18th-21st August 2011
OPEN FESTIVAL in Bremen (DE)

>> 18th and 19th August
OPEN STREET FORUM in Bremen (DE) «Foundation of advocacy for open-air performing arts in Europe»

>> 13th-16th October 2011
2nd INTERNATIONAL SHOWCASE of Street Performing, Montegranaro and Fermo (IT)

Meeting Pro NAMUR EN MAI
Saturday Juin 4th - 11h-13h - Maison de la Culture
Europe encourages and supports the Cultural and Creative Industries! ...
Is this european directive, aiming to include the artistic creation as propeller for financial activities, compatible with French vision of artistic production?
What is the situation in Catalonia, Italy and Germany?... Can this participate in upgrading our arts sector? ...
Existing patterns?

OPEN STREET PLATFORM DEVELOPEMENT

View the great success of the 2010 edition of the Open Street Showcase, we want to inform all European artists and companies that on late June we will release the call for participation to the 2011 edition of Showcase, programmed in Fermo in October 2011. In connection to this, we are working on a site revision, leading to the development of the Open Street website as a social netwrok, and allowing artists to manage the upload of files, photos and descriptions of their shows.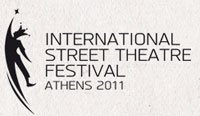 Many initiatives are programmed in the ambit of 3rd International Street Theatre Festival programmed in Athens from June 30 to July 4 of 2011: a programme of shows performed by Greek and European companies, an Art Market favouring artists promotion, seminars and workshops; in occasion of festivals, some awards will be assigned for conception and originality of street performances and one award will be assigned exclusively to greek groups. As consequence of Athens Festival adhesion of Open Street project, for this last award OPEN will grant to winners the programming of their show in the 2012 edition of Montegranaro Veregrastreet festival in Italy project leader festival, as well as others Italian and European events.
www.istfest.gr

More Articles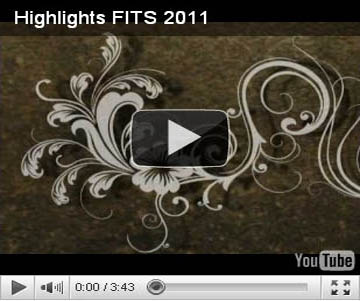 Sibiu International Theatre Festival (SITF) is the most prominent annual performing arts event in Romania and the third in Europe in terms of size and relevance. This year, between May 27th and June 5th, the festival will celebrate it's 18th edition featuring the theme "COMMUNITIES".

The SITF as OPEN STREET member, in the month of October 2010 He has participated at the first OPEN INTERNATIONAL SHOWCASE in Fermo. In that occasion he selected some companies of different countries for his official program. These include: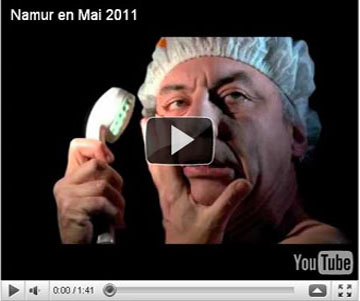 NAMUR EN MAI, the festival of street arts, raises his stalls, his tents and its stages from 1st to 5th June 2011! Promotion des Arts Forains, organizing association, is one of co-organizers of Open Street. During 2011 and 2012, its role will be to foster international dialogue and to offer new tools for the development of street arts. It also act as Belgian permanent headquarters of Open Street International Forum; On 4th June it will host the meeting, "The cultural and creative industry."

The official program of the festival includes a OPEN STREET section, presenting more than 20 shows performed by companies from cooperating countries.

These include:
by Gabriele Koch, La Strada Festival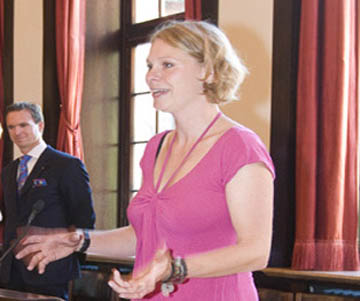 Why is it that street theatre does not have an efficient European lobby yet, that stands up for the genre´s interests? Who should speak up for us if we not do it ourselves? Creative heads, friends and supporters of street theatre let´s get together and found a European lobby and network for our shared passion!

La Strada and Open Street Bremen would like to contribute by setting up the framework for such a foundation. We would like to invite you to come to Bremen and share your ideas, opinions and experiences and be part of the foundation of a European Lobby for street theatre.

We are going to organize workshops where we all will develop an internationally understandable name, explore our mission, vision and objectives as well as concrete operational strategies.

Where does FORUM take place? FORUM will take place within the framework of this year´s La Strada international street theatre festival in Bremen, Germany.

When does FORUM take place? 18 - 19 August 2011

More information about the registration procedure and the exact programme will follow soon.