PROJECT LEADER:
Comune di Montegranaro (Fermo - I)

COORGANIZERS:
Promotions des Arts Forains asbl, Namur (B)
La Strada Straßenzirkusfestival, Bremen (D)
Federazione Naz. Arte di Strada - Rome (I)

PARTNERS AND SUPPORTS:

Public Boards and Istitutions:
Regione Marche (I);
Provincia di Fermo (I);
Senator für Kultur Bremen (D);
Ville de Namur (B);
Ville de Arles (F);
Ville de Barcelone (E);
Province du Limbourg (B);
Conseil Général de l'Essonne (F);
Ville de Luxembourg (LUX);
Comune di Monterubbiano (I);
Comune di Moresco (I);
Comune di Lapedona (I);
Comune di Porto San Giorgio (I);
Comune di Campofilone (I)
Comune di Fermo (I);
Comune di Ortezzano (I);
Comune di Falerone (I);
Comune di Monte Vidon Corrado (I);
Comune di Servigliano (I);
Comune di Grottazzolina (I);
Comune di Francavilla d'Ete (I).

Local Association for Cultural Promotion:
Associazione Pro loco di Campofilone (I)
Associazione Pro loco di Lapedona (I)
Associazione Pro loco di Ortezzano (I)
Associazione Pro loco di Petritoli (I)
Associazione Pro loco di Grottazzolina (I)

University:
Università degli Studi di Macerata;
Facoltà di Beni Culturali (I).

Theatre Boards & Networks:
Bund. Theater im Öffentlichen Raum (D);
A.M.A.T. Ass. Marchigiana Attività Teatrali (I);
Artserv.net, art services network (D);
AgitPolska e.V. (D).

International Festivals:
Ratataplan Int. Festival, Lessona (I);
Artistiinpiazza, Int. Festival Pennabilli (I);
Ferrara Buskers Festival, Ferrara (I);
Mercantia Int. Festival, Certaldo (I);
Ulicnih Sviraca Festival Novi Sad (SR);
Szárnyas Sárkány Festival, Nyírbátor (HUN);
Tuin der Lusten, Overijssel (NL);
Feta Festival, Gdansk (PL);
Internationaal Straattheaterfestival, Gent (B);
Spraoi Festival, Waterford (IR);
Bath Fringe, Bath (UK).


tuesday 18 / 5 / 2021 | 1243 members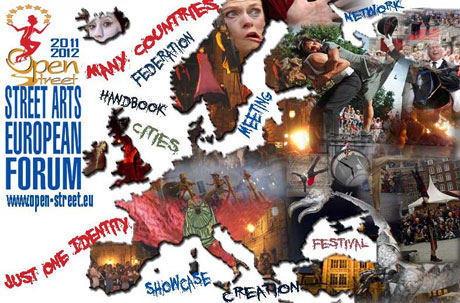 To OPEN the city gates to street arts means to bring out the value of open air spaces assigned to social life, to enforce the cohesion inside communities, to improve the local tourist activity, to create new routes for exchange and integration between European countries.

The creation of a international debate, the comparisons between normative and laws, different urban patterns and policies for development and support of street arts, will drive to a new consciousness and will produce new stimulus in administrators and art operators. This route could not be undertaken on a simple regional or local level. Our country, now, is Europe!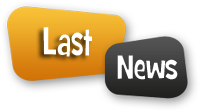 OPEN MEETING IN NAMUR
2011 june 4. Street art is in the domain of cultural industries?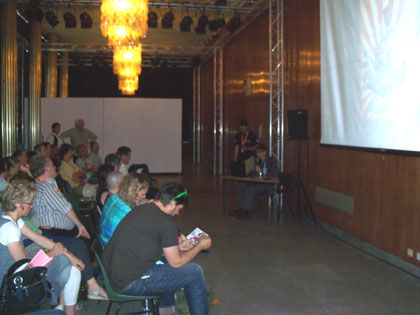 On 4 June, in Wallonia's capital, in the OPEN FESTIVAL "Namur en Mai", was held the 1° OPEN MEETING 2011, promote and organized by the Belgian base of the OPEN EUROPEAN FORUM.
Reflection by Jean Felix Tirtiaux, artistic director of Namur en Mai, has developed around the theme of the relationship between creativity and economics; between industry and culture. Guests included the Catalan Institute of Cultural Industries of Brussels, which supports the foreign tour of Catalan companies, with particular attention to the spectacle of the street and circus.
Creativity is the lifeblood of the economy. This is the key concept of European policies which implement the resolution 1350/2008, the act whereby the European Council has set up in 2009 the Year of Creativity and Innovation and launched, among others, the Culture Programme 2007-2013. OPEN STREET is supported through this program. And it is true that street art is an area with a strong creative arts. But it is legitimate to refer to the category of industry? Street art can be part of the cultural industries or is it something antithetical to the industry? This was the question on which many interventions intended to reflect in Namur.

PHOTO ART IN THE OPEN FESTIVAL NAMUR EN MAI
IN JUNE OPEN STREET IS AT NAMUR !
The OPEN STREET performances in the capital of Wallonia, 1st to 5th June
NAMUR EN MAI, the festival of street arts, raises his stalls, his tents and its stages from 1st to 5th June 2011!


For the project, the Festival highlights the best Belgian and international contemporary creations, inspired to the world of strolling mountebanks.
The festival of street arts "Namur en Mai" is a cultural event which has become a landmark in Belgium and in the world, combining in the city "staging" all forms of art able to express themselves outside the traditional sites assigned to cultural expression!
Its programming is based on enhancing artistic creativity, thus participating to the vital idea that creativity, today, is a fundamental spring of our society and it contributes to progress of people!
PROGRAMME

Promotion des Arts Forains, organizing association, and co-organizer of Open Street. During 2011 and 2012, its role will be to foster international dialogue and to offer new tools for the development of street arts. It also act as Belgian permanent headquarters of Open Street International Forum; On 4th June it will host the meeting, "The cultural and creative industry."

The official program of the festival includes a STREET OPEN section, presenting more than 20 shows performed by companies from cooperating countries.

These include:



SIBIU INTERNATIONAL THEATRE FESTIVAL START
27TH MAI - 05TH 2011 - 4 companies participate thanks to OPEN STREET cooperation
Sibiu International Theatre Festival (SITF) is the most prominent annual performing arts event in Romania and the third in Europe in terms of size and relevance. This year, between May 27th and June 5th, the festival will celebrate it's 18th edition featuring the theme "COMMUNITIES".
Sibiu has always been a place for the spectacular. Thus, in recognition of the city's cultural excellence, Sibiu was granted the title of European Capital of Culture in 2007.
The programme of the 18th edition of Sibiu International Theatre Festival continues the tradition of outstanding cultural events. The cultural offer of this edition is rich and varied and will stage major international productions, the finest productions in Romanian theatre, as well as street and music performances from around the world, all taking place daily, in Sibiu's historical centre, squares and buildings, inside the churches and the medieval fortresses of Sibiu's scenic surroundings.
PROGRAMME

OPEN MARKET FOR PERFORMANCE
Due to its importance and the atmosphere that it creates along with the partnerships it establishes, the Festival substantially contributes to the consolidation of the international prestige that Romania has gained, as well as the image improvement of a multicultural community.
The SITF as OPEN STREET member, in the month of October 2010 He has participated at the first OPEN INTERNATIONAL SHOWCASE in Fermo. In that occasion he selected some companies of different countries for his official program. These include:
OPEN FESTIVAL IN MONTEGRANARO
21st-27th June, 2010
The OPEN activity plan starts officially with the first Open Festival, in occasion of the 12th edition of Veregra Street of Montegranaro (Fermo province) from 21st to 27th June. Many European companies will attend this firs appointment, from cooperating countries in particular (PROGRAMMA). A lot of interest also for the international meeting on 20th/21st June.