FESTIVAL 2021
The application call now available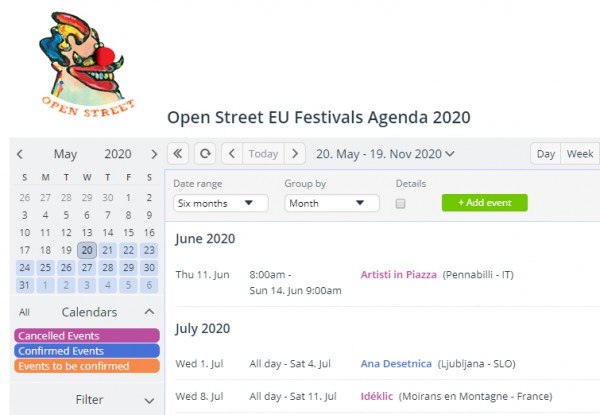 On 18th May 2020, given the progressive improvement of pandemic conditions and the loosening of safety rules in many European countries, Open Street aisbl decided to take a census of the European network of performing arts festivals and launched a European agenda of main Street Festivals. If in 2020 the utility of our agenda was sadly just to report the cancellation of all events due to Covid19, now Open Street, in cooperation with operators all over the continent, is able to report the dates of events to be confirmed or already confirmed for 2021. This initiative aims to promote artistic programming, defend the creative chain and help the restart of all sector

You can contribute by entering the dates of your international event yourself. If you are an artist and you know all the data of the festivals that host you this year, you can contribute to the Agenda too.
The Open Street Association keeps frequent contacts with main European events in order to achieve all useful info for artists and companies. In this period the programmers begin to fix dates, contact companies and launch the application for participation to their events. Here you can find
the result of our first round of contacts. Just click on festival name to go straight to the application! Look out! Some deadlines are just ROUND THE CORNER!
- BERGEN FRINGE FESTIVAL (NO - SEPTEMBER) - Deadline: 15th Jan. 2021
- BAJOCCO FESTIVAL (IT - SEPTEMBER) - Deadline: unknown
- BUSKERS BERN (CH - AUGUST) - Deadline: end December 2020
- CHALON DANS LA RUE (FR - JULY)  - Deadline: 31 Jan 2021
- FERRARA BUSKER FESTIVAL (IT - AUGUST) - Deadline: April 2021
- FESTIVAL ET 20 L'ÉTÉ (FR - JUNE) - Deadline: 5th December 2020
- FESTIVAL VICE & VERSA (FR - APRIL) - Deadline: 31st December 2020
- IMAGINARIUS (PT - MAY) - Deadline: 6th December 2020
- KULTURUFER (DE - JULY/AUGUST) - Deadline: Unknown
- LA STRADA AUGSBURG (DE - JUL/AUG) - Deadline: 31st December 2020
- LA STRADA BREMEN (DE - AUG) - Deadline: 1st February 2021
- NAMUR EN MAI (BE - MAY) THEATRE CALL - MUSIC CALL - Deadline: Unknown
- REYKJAVIK FRINGE FESTIVAL (IS - JULY) - Deadline: 15th Jan 2021
- UMORE AZOKA (ES - MAY) - Deadline: 10th December 2020