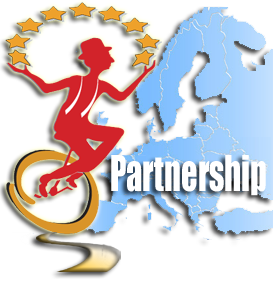 PROJECT LEADER:
Comune di Montegranaro (Fermo - I)

COORGANIZERS:
Promotions des Arts Forains asbl, Namur (B)
La Strada Straßenzirkusfestival, Bremen (D)
Federazione Naz. Arte di Strada - Rome (I)

PARTNERS AND SUPPORTS:

Public Boards and Istitutions:
Regione Marche (I);
Provincia di Fermo (I);
Senator für Kultur Bremen (D);
Ville de Namur (B);
Ville de Arles (F);
Ville de Barcelone (E);
Province du Limbourg (B);
Conseil Général de l'Essonne (F);
Ville de Luxembourg (LUX);
Comune di Monterubbiano (I);
Comune di Moresco (I);
Comune di Lapedonia (I);
Comune di Porto San Giorgio (I);
Comune di Campofilone (I)
Comune di Fermo (I);
Comune di Ortezzano (I);
Comune di Falerone (I);
Comune di Monte Vidon Corrado (I);
Comune di Servigliano (I);
Comune di Grottazzolina (I);
Comune di Francavilla d'Ete (I).

Local Association for Cultural Promotion:
Associazione Pro loco di Campofilone (I)
Associazione Pro loco di Lapedona (I)
Associazione Pro loco di Ortezzano (I)
Associazione Pro loco di Petritoli (I)
Associazione Pro loco di Grottazzolina (I)

University:
Universitŕ degli Studi di Macerata;
Facoltŕ di Beni Culturali (I).

Theatre Boards & Networks:
Bund. Theater im Öffentlichen Raum (D);
A.M.A.T. Ass. Marchigiana Attivitŕ Teatrali (I);
Artserv.net, art services network (D);
AgitPolska e.V. (D).

International Festivals:
Ratataplan Int. Festival, Lessona (I);
Artistiinpiazza, Int. Festival Pennabilli (I);
Ferrara Buskers Festival, Ferrara (I);
Mercantia Int. Festival, Certaldo (I);
Ulicnih Sviraca Festival Novi Sad (SR);
Szárnyas Sárkány Festival, Nyírbátor (HUN);
Tuin der Lusten, Overijssel (NL);
Feta Festival, Gdansk (PL);
Internationaal Straattheaterfestival, Gent (B);
Spraoi Festival, Waterford (IR);
Bath Fringe, Bath (UK).



thursday 1 / 6 / 2023 | 1294 members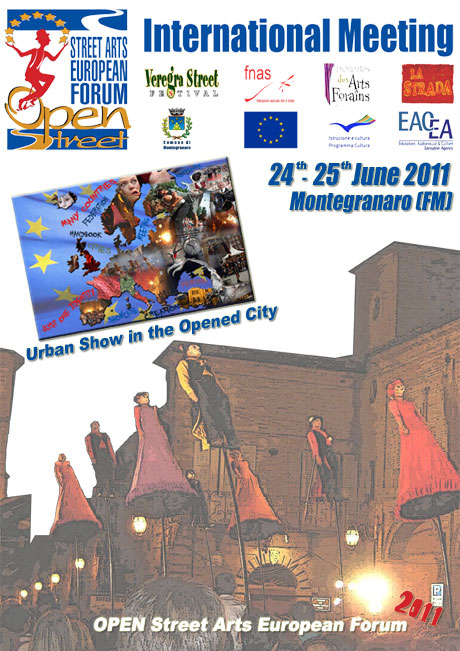 The project OPEN STREET
, supported by the European Commission, aims at the analysis and development of common policies for the promotion and growth of street arts throughout the European Union. In the first year of activity we have achieved important goals such as adherence to the open web platform of over 450 street arts members (companies, institutions and festivals) from 28 different countries. This gives us good hope in the possibility of establishing in short time the European association for the promotion of street arts, which is truly representative of all respective national entities: a specific meeting on this important line of action will be held in Bremen in August 2011.
Through the action plan 2011 and 2012
we also intend to start a pondering on the relationship between the show and the organization of urban cultural life of European cities , that enhance the urban show. Aiming to this objective, the meeting of June 25 next to Montegranaro (Italy) will be a very important, hopefully interesting as well, moment of pondering for all of us.
In adhesion to the spirit characterizing our open model of cooperation
, we ask our guests to participate to the creation of meeting contents. On last page of programme we propose some key points that we believe should characterize the positive relationship between city and urban show, occurring in cities that can be considered OPEN to street art.
Institutional Meeting Key Points
Guidelines to be adopted by cities favourable to street arts
1) City management
A) Protection of pedestrian areas and social venues of city
B) Exploitation of free artistic expressions in urban venue
C) Promotion of integration between cultural heritage and urban show.
2) Events organization
A) Fixing of "good roots": involvment of social set-up, of cultural resource of territory, involvment of youth, students, production network, tourist operators
B) Fostering the value of street arts: to train press and audience
C) Supporting the growth of this art sector: promotion of creation, of training, to favour the art residences, to organize occasions of pondering and meeting between art operators and institutions.
D) Promotion of art diversity and free circulation of art productions: to foster match between national and international art institutions, to promote art production of all countries, even not considering respective advantages in terms of structures and business skill
E) To promote the integration of different disciplines and speeches
F) To promote street arts outside the ambit of street arts: in the context of other cultural programs of the city, to increase the number of events that are dependent on, or refer to, the ambit of street art, to which they link the values, or to which they relate their shapes.
JOIN MEETING
HOTELS - B&B:
>>
Montegranaro
LOCATIONS:
>>
Montegranaro
: Centro congressi HOTEL HORIZON, strada Veregrense ( loc. villa Luciani);
www.yodahotels.it
; Tel 0734.873864
OPEN FORUM CONTACTS:
>>
FNAS
– Federazione Nazionale Arte di Strada, Tel e Fax 0438 580986; info[at]fnas.org; Cell +39 338 7138903.
>>
Uff. Turismo e Spettacolo Comune di Montegranaro
, Piazza Mazzini 1, 63014 Montegranaro (FM); Tel 0734 897932; Fax 0734 889991; Cell +39 335 7591515.
---
MEETING 2010