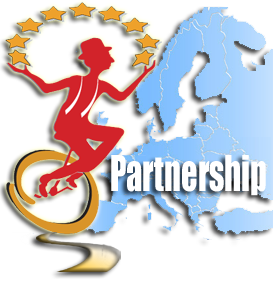 PROJECT LEADER:
Comune di Montegranaro (Fermo - I)

COORGANIZERS:
Promotions des Arts Forains asbl, Namur (B)
La Strada Straßenzirkusfestival, Bremen (D)
Federazione Naz. Arte di Strada - Rome (I)

PARTNERS AND SUPPORTS:

Public Boards and Istitutions:
Regione Marche (I);
Provincia di Fermo (I);
Senator für Kultur Bremen (D);
Ville de Namur (B);
Ville de Arles (F);
Ville de Barcelone (E);
Province du Limbourg (B);
Conseil Général de l'Essonne (F);
Ville de Luxembourg (LUX);
Comune di Monterubbiano (I);
Comune di Moresco (I);
Comune di Lapedona (I);
Comune di Porto San Giorgio (I);
Comune di Campofilone (I)
Comune di Fermo (I);
Comune di Ortezzano (I);
Comune di Falerone (I);
Comune di Monte Vidon Corrado (I);
Comune di Servigliano (I);
Comune di Grottazzolina (I);
Comune di Francavilla d'Ete (I).

Local Association for Cultural Promotion:
Associazione Pro loco di Campofilone (I)
Associazione Pro loco di Lapedona (I)
Associazione Pro loco di Ortezzano (I)
Associazione Pro loco di Petritoli (I)
Associazione Pro loco di Grottazzolina (I)

University:
Universitŕ degli Studi di Macerata;
Facoltŕ di Beni Culturali (I).

Theatre Boards & Networks:
Bund. Theater im Öffentlichen Raum (D);
A.M.A.T. Ass. Marchigiana Attivitŕ Teatrali (I);
Artserv.net, art services network (D);
AgitPolska e.V. (D).

International Festivals:
Ratataplan Int. Festival, Lessona (I);
Artistiinpiazza, Int. Festival Pennabilli (I);
Ferrara Buskers Festival, Ferrara (I);
Mercantia Int. Festival, Certaldo (I);
Ulicnih Sviraca Festival Novi Sad (SR);
Szárnyas Sárkány Festival, Nyírbátor (HUN);
Tuin der Lusten, Overijssel (NL);
Feta Festival, Gdansk (PL);
Internationaal Straattheaterfestival, Gent (B);
Spraoi Festival, Waterford (IR);
Bath Fringe, Bath (UK).


sunday 4 / 6 / 2023 | 1295 members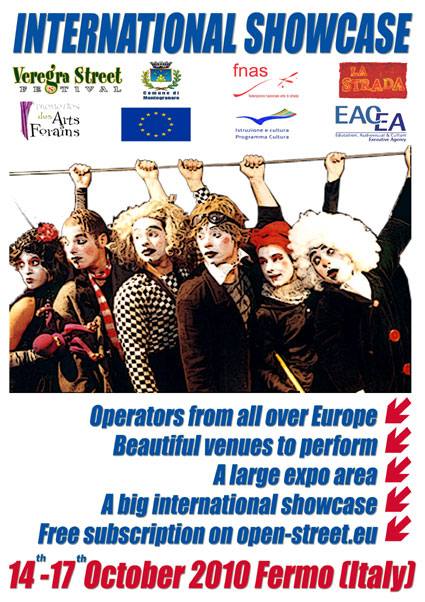 | | | |
| --- | --- | --- |
| ....... Official Program | ............................................. | .......Off Program |
SELECTION FOR OPEN STREET EUROPEAN SHOWCASE
OFFICIAL PROGRAM 2010 Evaluation of International Jury


| | | | |
| --- | --- | --- | --- |
| | COMPANY | CITY | CATEGORY |
| | Adam Walny | Ryglice | One Man Show |
| | FireFingers | Berlin | One Man Show |
| | Dino Lampa | Weinheim | One Man Show |
| | Benjamin Delmas | Torin | One Man Show |
| | Fanfan la Marguerite | Paris | One Man Show |
| | Leapin' Louie | Portland | One Man Show |
| | Trukitrek | Dosrius | Very Small |
| | Le due e un quarto | Torin | Very Small |
| | Chicchengian | Perugia | Very Small |
| | Alto Livello | Ponte a Egola | Very Small |
| | Inaki Mata | Antzuola | Small |
| | Envol Distratto | Lyon | Small |
| | Comp. Pampaloni Pierotto | Aulla | Small |
| | I Baccala Clown | Locarno | Over Small |
| | Cia La Tal | Rubí (Barcellona) | Over Small |
| | Cie El Grito | Bruxelles | Over Small |
| | Ambaradan | Bergamo | Nearly Medium |
| | Bash Street Theatre Co. | Penzance | Medium |
| | Lviv Theatre Voskresinnia | Lviv | Over Medium |
| | Ponten Pie | Barcellona | Nearly Big |
WARNING:
The following companies have declined to participate in OPEN STREET SHOWCASE 2010, due to unexpected commitments:
Cie Amarok (FR)
for the Nearly Big category
Theare Kvelb (CZ)
for the Nearly Medium category
Walk the Plank (UK)
for the Over Small category,
Nakupelle (UK)
for the Small category. These companies are replaced by immediately following and available proposals on official ranking of interest.


PARTICIPATING OPERATORS FULL LIST
Dear companies joined to OPEN STREET EUROPEAN FORUM, we wish to thank you for ample interest shown to OPEN Project.

In just 26 days of web platform opening, we have collects about 400 registrations from 28 countries (4 registrations of non-European countries). The applications for the official programme of showcase are 252. At the moment more than 80 European Festivals representatives and other art operators have decided to subscribe the proposal of cooperation.

Actually, these results shape the project into a significant experience, giving to all of us the opportunity to support, thanks to street performing arts, the building of an European cultural identity.

Oct. 26th 2010 it was the application deadline. The voting of videos by the festivals jury, for 8 categories, is still on way and it can be trailed in real time on web page OPEN STREET TUBE.

We will inform you about end outcomes within 1st October. On that occasion we will ask you to confirm your attendance to official programme to showcase (in case of selection), to the Off section of showcase, or attendance just with promo desk. Later, you will receive all info concerning your stay in Fermo.

The Street Performing Art can join Europe. Do we accept this challenge?
SUMMARY OF CALL

In the ambit of project "OPEN STREET", supported by the European Union under the Culture Programme 2007-2013, with the cooperation and support of Promotion des Arts Forains - Festival Namur en Mai (BE), Gruppe Neue Kulturarbeit – La Strada Festival Bremen (DE) FNAS - National Federation of Street Art in Rome (IT), and with the participation of many festivals, institutions and operators of the European sector, the City of Montegranaro – IT (Project Leader) announces a call for participation in the 1st edition of open EUROPEAN STREET SHOWCASE

Objectives
- To create an European market of the street show that is attentive to the cultural specificities of each country on the continent.
- To promote the construction of a European identity of popular show as an element essential for the integration of member countries.
- To promote the development of open network of institutional relations and trade relations between artists, companies, operators, festivals, programmers, etc. ..

Structure of event
1) SHOWCASE open to all artists, companies, promoters of Europe, with registration booth and free availability of meeting point, audio and video screening rooms, internet desks, accommodation at agreed price .
2) PROGRAM 20 shows in small, medium and large events, selected by a group of members of the Open Forum Festival, with companies from different countries, and recipients of attendance fees proportionate to the complexity of the trip.
3) OPEN STAGE evening with the opportunity for all artists and companies who want to perform before an audience of qualified professionals.

Participation
Participation is completely free for Festival and Companies. Hospitality for companies is at agreed fee of € 45.00 per person per day full board (3 meals per day). Registration must be made through the website www.open-street.eu.

40 invited festivals operators will be guests of project leader (food and accommodation for the Italian operators, travel food and accommodation for foreign operators). For the official program of exhibitions, 20 shows will be selected among the participants, shared into eight categories of competition (depending on the number of artists involved and the cachet offered). Companies selected will receive an attendance fee proportioned to the complexity of travel and can perform in one of 7 locations in the Showcase. To participate to selection of the official program companies and artists must insert a video of proposed show on showcase section of project website www.open-street.eu


PARTICIPATION PROCEDURE
Step 1

join the OPEN STREET EUROPEAN FORUM
Click on button "join" and fill the online registration form (as artist or festival…). Once registred, you will receive an email with a link to be clicked: this will complete the registration procedure.
Step 2

fill the PARTICIPATION FORM
Enter to your area whit username and password and fill the participation form (on "your showcase" button in top blu bar).
Step 3
Now, if you are artist or company, you can participate to selection for official programme by inserting a link (embed code) of a max. 10 minutes video of your show. If your video is not selected you will benefit of bargain accommodation fees, free availability of promotion desk, video room, open stage, meeting point etc. If you are festival you can vote european show candidatures on OPEN STREET TUBE.