WE PROMISED: HERE WE ARE AGAIN !
Dear Artists and Companies,
following the big success of 2010 and 2011 editions of Open Street International showcase in Fermo (Central Italy), probably the most successful European showcases in the ambit of street performing arts (600 companies joined from 30 European countries, 270 show bookings in 2 years inside the network), we are now ready, after two years of contacts, tries, promises and hopes, to invite all European artists and companies to the third edition of OPEN STREET INTERNATIONAL SHOWCASE, programmed FROM 9TH TO 12TH OCTOBER 2014 in MILAN. As already happened in occasion of previous editions, we foresee to invite dozens of art directors and organizers of most important European festivals (full coverage of their travel and living costs), thus giving to all European artists and companies the chance to let them know their shows and new productions.
MILAN, CASTELLO SFORZESCO and area
We have been able to obtain the support and cooperation of Milano City Administration for the organization of what is going to become one of the most important street arts events of 2014, in the most prestigious and central site of one of most important European cities, capital of Fashion, Design, Visual Arts… the City that will host the 2015 Universal Expo.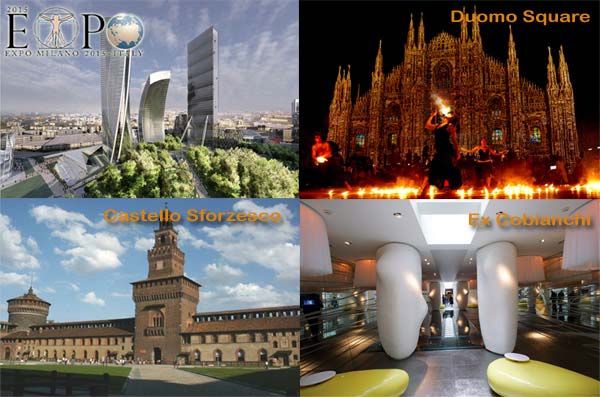 A REVOLUTIONARY PATTERN
Since its first edition, the showcase proposed a new pattern in terms of artists and operators participation based on COOPERATION:

- The Showcase is opened to all solo artists and companies of all European countries. They can participate to selection of the Official Program through own Open Street web profile, including the link to a video (max 10 minutes) of show to be proposed (not assembled videos are preferred).

- The video shared by artists are "voted" by an International Academy of festival art directors willing to attend to showcase. The 20 shows obtaining more preferences, shared by categories, will be part of Official showcase program (reimbursement of travel costs and free hospitality), whilst further 40 shows will be the Off program of showcase(accommodation / meals at very good conditions).

- The show programming and sites/seats assignment will be able to grant that ALL operators will be put in condition to see ALL shows inserted in the Official program.
IT IS IMPORTANT TO UNDERSTAND
1 This is a Showcase, a show fair (rather than a festival), a moment of meeting between offer (artists) and demand (festival organizers and director).
2)There are many valid ways to use the opportunity of OPEN STREET International Showcase:
- To participate to the Official Selection with a show proposal
- To attend through your representative,renting one stand for 2 days or longer at a very advantageous cost
- Both above ways
3) This is NOT a local (national) showcase: in OPEN STREET artists coming from every corner of our continent have same opportunity to show what they can do.
HOW TO PARTICIPATE
Application must be done exclusively online and becoming members of Open Street International Association as adherent member. The membership fee, for Festival, Association, Schools, solo artists and companies, is Euro 25,00 per year and gives right to many other services that you can find on the Open Street website. Here are all links to find all info for application / participation:
1) Become adherent member of Open Street a.i.s.b.l. no profit association by online registration: Read the Statute: http://www.open-street.eu/documents/STATUTE_EN.pdf
2) If you did NOT register in the past, and therefore you do NOT have an Open Street web profile, then go to this link: http://www.open-street.eu/join.asp and join as MEMBER.
If indeed you ALREADY HAVE your Open Street profile, then enter with your ID and password and complete compulsory data if requested by system. After this step, you can proceed to showcase participation and membership payment (clic on "Your Showcase" link).
PARTICIPATION CALL 2014

Participation Call Download

.. Summary of Call..................